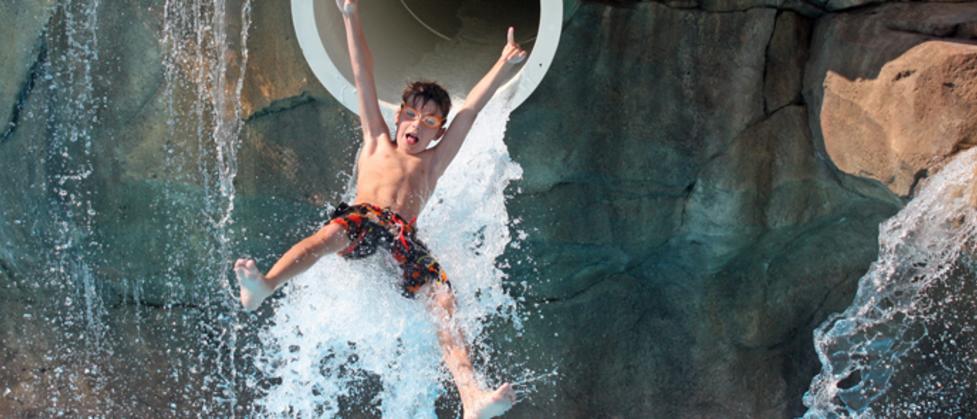 School's out for summer! (Did you just sing that??) In our house, we relate the start of summer vacation to the opening of the area pools. One of my most favorite smells is the combination of sunscreen and chlorine on a kid. We have so many fun swimming options in the metro and spots for kids of all ages.
Here is a list of the MUST visit pools this summer: 
1. Cascade Falls in Ankeny: This is probably the newest aquatic center in the metro. And it's big! There is a separate area for little kids with a zero-entry pool, fun slides, and water features. For bigger kids (adults included), there are two 250ft innertube slides, a swirl bowl slide, a drop slide, a flow rider surf machine, two diving boards, lap swimming, and a lazy river. There is great open space throughout for towels and a possibility to get a chair if you arrive early. Admission is $7 and $1 for kids two and under. Cascade Falls opens for the season on May 28.
2. Valley View Aquatic Center in West Des Moines: Home of the speed slide, which will rocket you into the water. There are three additional slides, plus a drop slide and diving board connected to the competitive swim area. For a more relaxing afternoon, you can hang out in the lazy river or the zero-entry pool with water features for the kids. The space feels spread out, which offers good towel space as well. Admission is $8 for adults, $6 for kids 3-12 and under three is free. Valley View opens May 30.
3. Carlisle Aquatic Center: This is a smaller aquatic center located in the South edge of the metro. It isn't nearly as busy as most of the locations in the larger communities, but that doesn't mean it isn't great! There is one sidewinder slide, a drop slide, diving board, lanes for swimming and a zero-entry area with water features perfect for smaller kids. It is definitely smaller than the other facilities, but we have a blast every time we go. Admission is $3 and kids under two are free. 
4. Adventure Bay Waterpark at Adventureland: To call this a pool is an understatement. Adventure Bay is truly a water park and an attraction for all ages. It has twenty water slides-including four innertube slides, a swirl bowl slide, six racing slides and two that quickly drop 60 feet. There is a large playscape (Kokomo Kove) with seven slides—my kids (ages five and seven) spend most of their time here because of the varying platforms and all the different fun things within. Adventure Bay also has a lazy river and a large wave pool, along with an area for even smaller kids. I recommend you do the water park earlier in the day. It's a long walk from the parking lot and also tends to reach capacity on hot days in the afternoon. Admission to Adventure Bay is included in your Adventureland Park admission of $40 for adults and $35 for kids under nine. You can find a coupon here! The waterpark opens May 30.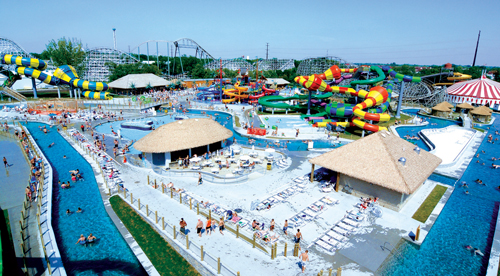 --TFNot only are the pools on this list fun to visit but they are family-friendly—lockers, restrooms, concession stands, good hours. Even more swimming options can be found by clicking here. So grab your towels, sunscreen, cash and pool toys and wear out those kiddos! What is your favorite DSM pool?