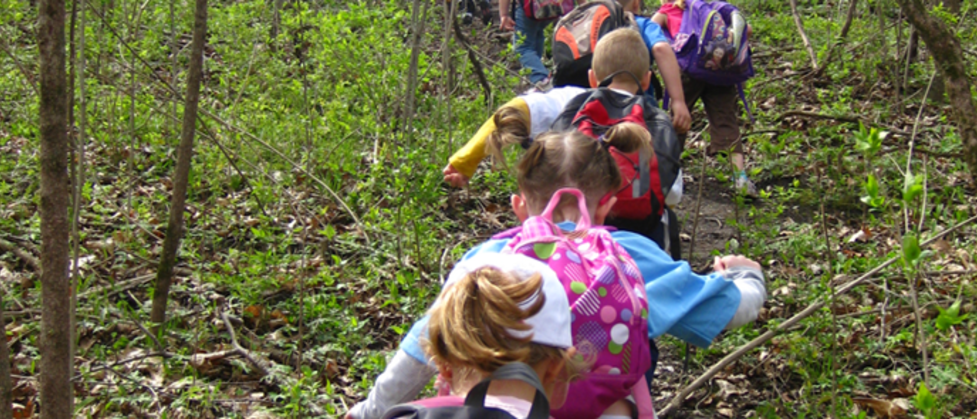 Iowans live in a particularly special place in the world. From scattered prairie expanses to wetlands, from woodlands to meandering waterways, Iowa is home to a variety of landscapes that lend well to the richness of our natural history as well as our appreciation of the land as it is today. Offering mile after mile of scenic views, what better way to enjoy each glorious Iowa season than to hit the trails?!
There is something about the inherent slower pace of a natural soft trail. Motivation is less destination-driven than it is to set out purely for the sake of walking. And right here in central Iowa, Polk County Conservation, with its 20 parks and trails, provides an opportunity to explore the natural world and its seasonal cycles at a pace that is best for you.
Right now is the perfect time to immerse yourself in the renewal offered by spring. Wildflowers are beginning to emerge from beneath the woodland floor. The secret to wildflowers is to locate a fairly undisturbed or recovering woodland. Brown's Woods in West Des Moines has been a park of local wildflower notoriety in years past. Increased emphasis on clearing this woodland of invasive species has left room for spring ephemerals to display their blooms in a blaze of color and variety before the thick canopy of towering trees above blocks out incoming sunlight.
| | |
| --- | --- |
| | |
Be sure to check out Thomas Mitchell Park near Mitchellville and Yellow Banks Park near Pleasant Hillfor particularly fine displays of Iowa early bloomers. The prairie patches along the Savanna Trail at Yellow Banks provides a mixture of open sun and woodland plants. Look for a canvas of colors painted on the forest floor in the yellows, blues, whites, pinks and purples of yellow star, bluets, Jacob's Ladder, Jack-in-the-Pulpit, tall white indigo, phlox and blazing star. The DeVotie Trail at Thomas Mitchell has a beautiful display of hepaticas and spring beauties that certainly mark the beginning of an Iowa spring.
| | |
| --- | --- |
| | |
The first morel mushrooms popping up from beneath the thick mat of forest debris represents another long-awaited sign of spring ushering in the warmer and greener days ahead. Variables such as temperature and precipitation dictate when these little ambassadors of spring begin dotting the Iowa landscape. Look for these ephemeral delicacies in moist areas with extensive organic decaying matter, especially around the base of ash, elm, sycamore and oak trees. Most morel hunters typify woodland areas as the place to search but be sure to not overlook the productivity of a grassland, generating pound for pound more decaying organic material each year than timbered areas.
Check out trails in the following parks to make the most out of this spring season:
Chichaqua Bottoms Greenbelt (Located northeast of Des Moines, 5 miles east of Elkhart)
Tranquil trails wind along the old oxbows of the Skunk River. Keep an eye out for great blue herons, wood ducks and river otters.
Hiking Difficulty: easy
Jester Park (Located 15 miles northwest of Des Moines near Granger)
You'll enjoy spectacular views of Saylorville Lake and a wide variety of wildlife on many peaceful trails as you hike through beautiful oak/hickory woodland.
Hiking Difficulty: easy - moderate
Thomas Mitchell Park (Located on NE 46 St. east of Altoona)
The DeVotie Trail is part of the old stagecoach trail that stopped at Thomas Mitchell's cabin. Thomas Mitchell was the first permanent Anglo-American settler in Polk County.
Hiking Difficulty: easy - moderate
Yellow Banks Park (Located 10 miles southeast of Des Moines, south of Highway 163)
On the Savanna Trail, you can introduce yourself to some of our oldest residents. This trail guides you past Polk County's few remaining 250 year old savanna oak trees.
Hiking Difficulty: easy - moderate
Fort Des Moines Park (Located on SE 5th Street, south of Army Post Road in Des Moines)
The Aspen Ridge Trail winds through a tapestry of sunlight, shadows and greenery. Listen for chattering chipmunks, scolding blue jays and whispering wind.
Hiking Difficulty: easy
Brown's Woods (Located just west of 63rd Street in West Des Moines)
The giant oak trees shading this three mile nature trail system creates a solid canopy of leaves penetrated by dancing rays of sunlight. Brown's Woods is Iowa's largest urban forest preserve totaling more than 484 acres.
Hiking Difficulty: moderate
VIDEO EMBED - 30 sec parks video

So lace up those boots and get outside! Check out Polk County Conservation's website and blog to keep up-to-date on the latest happenings, events and programs in Polk County. And share your spring adventures in the parks and trails on Facebook!

"In every walk with Nature, one receives far more than he seeks" - John Muir

--MS