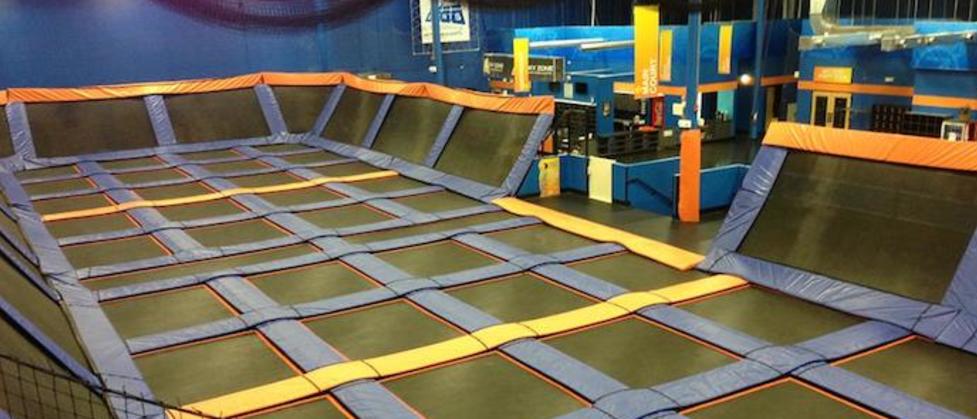 It is officially fall. I know there are plenty of you out there who love the fall. Who can't wait to break out the boots, scarves and pumpkin everything. But to this mom, fall means the loss of daylight and cooler temperatures. It means goodbye to easy nights and weekends of the kids getting worn out running through the neighborhood or playing at the park. Now I need new ways to end the day with red-faced and sweaty kids. Here are six great INDOOR play-spaces to entertain your kids.
1. SkyZone in Grimes is an indoor trampoline park. And just like it sounds, it is full of trampolines! It is for kids of all ages (and adults) and you purchase minutes in half hour increments to allow you to jump for as long as you want. There is a large open jump trampoline, which is really a raised floor of trampolines surrounded by walls of trampolines; a dodge-ball court, basketball hoops and a foam pit. There is even an area specifically for kids ages five and under. I recommend you reserve your jump times in advance (online) because they do get busy, especially on the weekends. We have found that 60 minutes is plenty for our crew and there are times when I think 30 minutes would have done the trick. You will need to purchase their special orange socks on your first visit, but these can be reused each subsequent visit.
2. The Playground for Kids in Ankeny is one of my favorite spots. They have a giant tree house for the kids to climb through, which includes two ways up and four slides down. They also have five inflatables to play on—including slides, an obstacle course and a bounce house. Their hours are a little crazy—some days they are open into the evenings and they are only open certain Saturdays but we can definitely be here up to two hours when we come. I very much appreciate how clean it is and how friendly the staff is. The concessions are affordable too, which is nice when we need a little break for popcorn or pizza. I do recommend purchasing their punch card, which will save you a few dollars on admission each visit.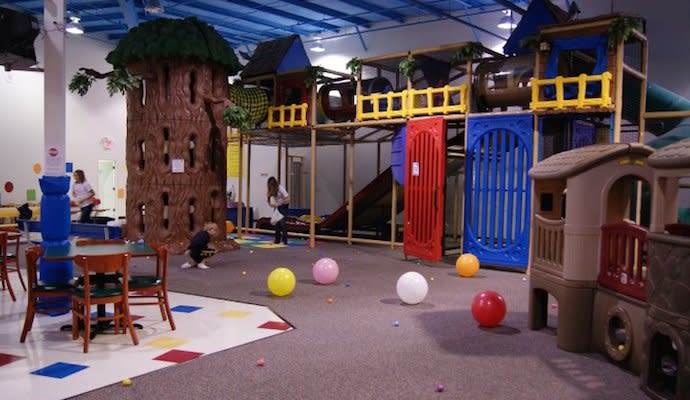 3. Backyard Adventures and Rainbow of Iowa both offer open playtimes in their showrooms. The look on my kids' faces when we show up to play in a room full of swing-sets and outdoor equipment is priceless! Even though this is only available during the day on weekdays, it's great for no-school days and breaks. For only $5 the kids get to play as long as they want. Both places have party rooms so you can bring in your own lunch and drinks too. Backyard Adventures is open 10 a.m.-5 p.m. each weekday while Rainbow is open on Tuesdays and Wednesdays from 10 a.m.-2 p.m. Each showroom has about eight play systems and Rainbow also has a trampoline and basketball hoops as well.
4. Triad Gymnastics in Ankeny and The Little Gym in West Des Moines are both gymnastics, class based gyms that offer open play times. Triad is hands down my kids' favorite place to go. We have had birthday parties here and participate in their open play--Every. Single. Month. They have trampolines, an obstacle course, foam pits with ropes, balance beams and bars, inflatables, rings and more. It really does cater to all ages. They offer a family playday on the last Sunday of the month from 4:30 p.m.- 6:00 p.m. The entire family (parents just watch) plays for $15. They also offer an occasional parents' night out and no school play days, plus lots of options for those kiddos not yet in school.
The Little Gym has a similar setup to Triad. The facility itself is a lot smaller, and it is designed for younger kids. They have a padded gymnastics floor and all of the gymnastics equipment—set to a lower level that is perfect for the little ones. They also offer birthday parties and have a parents night out on select Fridays and Saturdays. That's right, you can leave your kids here, go to dinner in peace at one of our fabulous Metro restaurants, and pick them up exhausted. Where do I sign?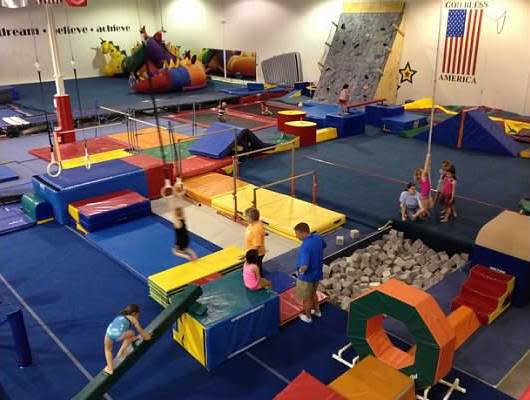 These fun options are sure to keep your kids active and happy. What is your favorite indoor activity that keeps your kids moving?
--TF