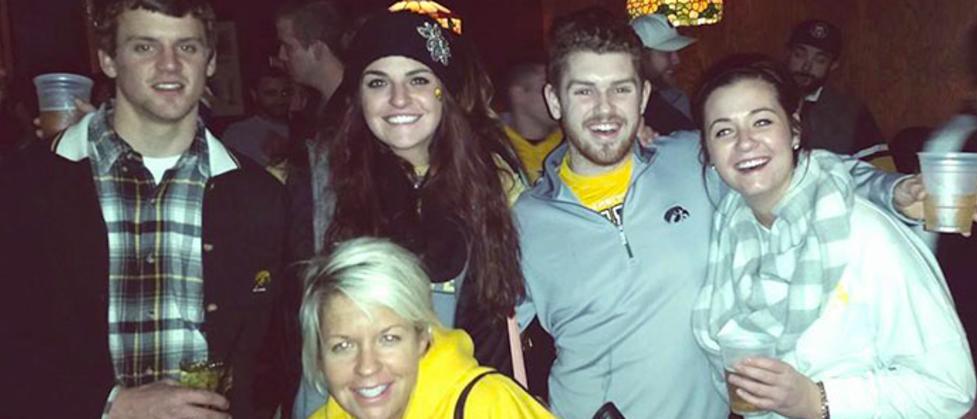 WARNING: This is from a Hawkeye fan point of view. The writing below is interchangeable from both sides of the fence. If you decide to proceed, you won't regret it. Also, nobody was harmed in the creation of this blog.
As the end of "rivalry week" comes to a screeching halt, what better way to end than with a blog about tailgating for Iowa's most iconic game, Iowa vs. Iowa State. The time of the year that the state feuds, families divide and all hands are on deck for one heck of a time. I have been tailgating since I can remember, so I found it necessary to share my tricks of the trade for having the ultimate time at your tailgate.
Catch Sporty Gear
Ladies, the outfit is a must at this event. We spend hours, upon hours finding one outfit that we're okay with sweating, drinking and entering worst porta-potty in. This can become a very daunting task! For this weekend's game (the weather app tells me 67 degrees, no rain, holla!) I went on a search at Scheel's at Jordan Creek for the perfect tank top, paired it with an original flannel and jeans. I will also have my hair down with the perfect braided black and gold headband (flea market bargain) that will compliment it oh, so well.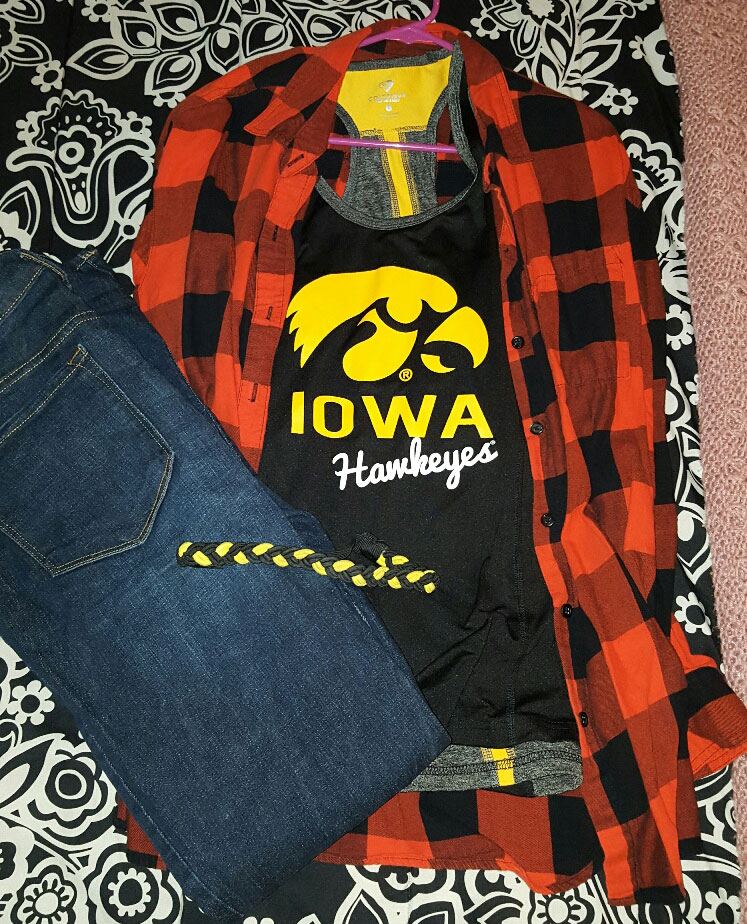 Catch Mean Snacks 
While shopping at Hy-Vee, I was having a very tough time deciding what I was going to make for our tailgate. My mom informed me that she was making Hot Beef Sandwiches and nothing compares to that. So I decided that a snack food was the only thing that I could contribute. [Grabs phone, searches Pinterest] I actually ended up finding a great recipe for seasoned crackers that sounded amazing!
         1 packet of Hidden Valley Ranch Dressing Mix
         ¼ cup of vegetable oil
         1 teaspoon of dried dill weed
         ½ teaspoon of garlic powder
         Salt to taste
         1 package of oyster crackers
         1 box of goldfish crackers
Preheat the oven to 250°. Mix all ingredients together in a large bowl and transfer to a large pan once all of the crackers have been covered. Cook in the oven for 15 minutes, stirring the mixture every 5 minutes.  
Catch a Drink
I enjoy a good adult beverage. The type of drink concoction you make for a tailgate is vital to how your day is going to pan out. For Saturday's tailgate, I decided what better way to go than good ole' school jello shots! Everyone obviously has their own special recipe, but I decided to keep it simple and go with a bottle of cheap vodka and two different kinds of jello to represent the Hawkeyes. Mind you though, I went with grape jello because I figured Black Licorice flavored shots, might chase the party away. Although I will always have a Busch Light by my side, these shots will definitely get the party started.
         $6 bottle of Burton's Vodka
         1 box of Jello
Follow the instructions on the back of the box, but substitute vodka for the cold water. Each box will make approximately a dozen shots.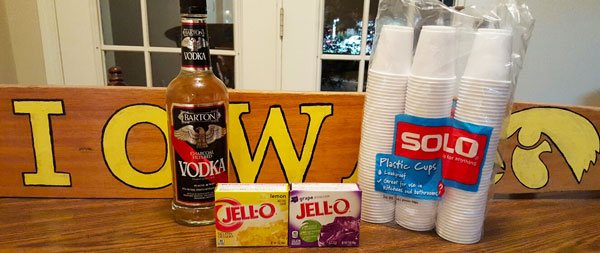 Catch Local Spirit
Although the party in Ames is going to be a great time, some may decide that Des Moines is where the party is at. If you're looking for a local place to play bags, eat a sweet treat or enjoy an ice cold beverage, check out the locations below for a great time!
Flix Brewhouse
If you are looking to tailgate and watch the game in a family friendly environment, head over to Flix Brewhouse where you can eat, drink and play games before kickoff at 3:45 p.m. The tailgate party starts at 1 p.m. and includes activities, raffles and a free bags tournament. Winners take home prizes. The best part? After tailgating you get to watch the in-state rivals duke it out on the big screen. I imagine watching the game on a screen that big is as close as you will get to being at the game. The tailgating and event is free of charge, however you may want to reserve a seat ASAP on their website. More details here.
Chocolate Storybook
If you have a sweet tooth, Chocolate Storybook has a decadent opportunity for you to decide the outcome of the game! Make sure to stop out and choose the Cyclone or Hawkeye Drizzled Chocolate Bacon. As a Hawkeye fan, I wasn't too happy that the Cyclone's won not only the game, but this competition as well. The team chocolate bacon, caramels and apples will be available to purchase at Chocolate Storybook all weekend. If you're planning on taking them with you to your own party, make sure to call and pre-order!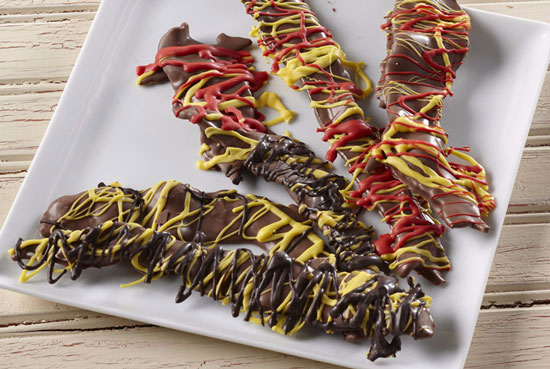 Around Des Moines
In the latest edition of Juice, an article written by Des Moines Foodster Nick Lucs, lists four bars in the Greater Des Moines area having drink and food specials during the game. Make sure to check out the article here.
I've got my Shot Ski in hand, food and jello shots made and now I'm ready for a great time! I hope you all have a safe weekend and either live it up in Ames or in the great city of Des Moines. Cheers!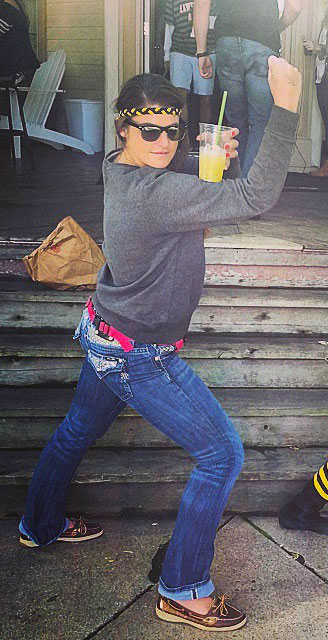 --KR