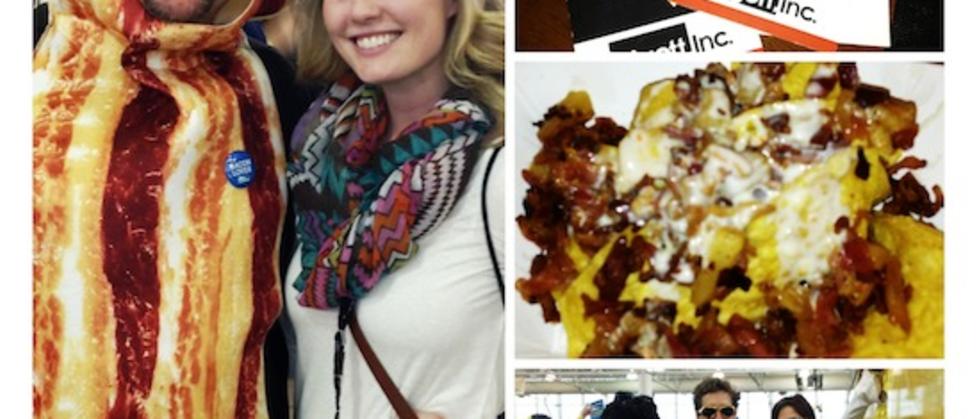 It's no secret. Des Moines was a-buzz with bacon lovers this weekend at the 7th annual Blue Ribbon Bacon Festival. Myself a bacon fanatic, I wandered the festival sampling bacon and beers. Jalapeño flavored bacon. Chocolate-covered bacon. Pineapple and bacon nachos. Bacon on pizza. Bacon in rangoons. Bacon wrapped in more bacon. I was in serious bacon heaven.
However, with limited tickets available for purchase—I sympathize with those that missed out on the bacon festivities. Therefore I took it upon myself to experience my own ode to bacon throughout the past month around Greater Des Moines. So, whether you're experiencing bacon withdrawals or bummed you missed out—catch a few of these Greater Des Moines mouthwatering dishes to satisfy your bacon craving.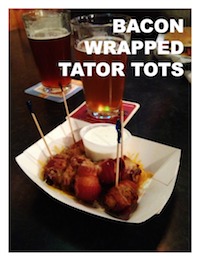 High Life Lounge – Try the bacon-wrapped tater tots. There's a kick of jalapeño for a little extra flavor. Featured on Man VS. Food. Tots might seem like a strange recommendation, but it fits the vibe of High Life perfectly. Think shag carpets, Mom's Pot Roast and a glass of Tang on the side. Or a Pabst Blue Ribbon. Pick your poison.
Scratch Cupcakery – I LOVE the Maple Bacon cupcake. At $2 a pop, it's melt-in-your-mouth heaven. Vanilla maple bacon cake, maple cinnamon buttercream frosting and topped with caramelized maple bacon. Swoon. It's only on the menu on Fridays—but always available by special order.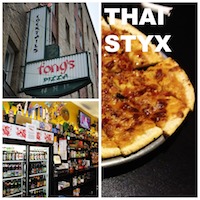 Fong's Pizza – It's all about the Thai Styx. Thai peanut sauce and crispy bacon all aboard a thin wheat crust. Drizzled with honey for a sweet aftertaste. Or add a little Siracha for a fiery kick!
Zombie Burger + Drink Lab – My personal fave: #5, also known as They're Coming to Get You Barbara. The buns are made of grilled cheese sandwiches. I prefer the grilled chicken, but hamburger patty, grilled Portobello or veggie nut patty options also available. Plus American cheese, caramelized onion, Zombie sauce and BACON.

Jethro's BBQ – Everything at Jethro's is mammoth-sized. Order anything from the breakfast menu—and request an extra side of bacon. Named "Manliest Restaurant" in the Midwest by Men's Health Magazine, you won't be disappointed. I'm a sucker for Papa's Breakfast with extra crispy bacon and a side of hash browns.
Exile Brewing Co. – Ditch the diet and try the Mac & Cheese. Elbow macaroni noodles drenched in a bacon infused béchamel sauce with kale on top. It's decadent and rich, so it pairs well with a salad. Double up on the bacon and choose the Isaac Newton or Fried Chicken Tender salad—each topped with crunchy bacon as well.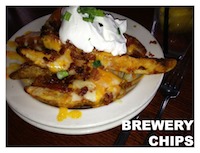 Raccoon River Brewing Company
– Nothing's better than a hearty, heaping pile of potatoes, cheese and bacon on a cold day. Grab a group and order the Brewery Chips appetizer at Raccoon River. Topped with green onion and sour cream. Yum!
No matter how you cook it, Des Moines has embraced the bacon craze. And so should you! Want to win BACON FOR A YEAR from Des Moines' own Lambert & Ewers? Tell me about YOUR favorite Des Moines restaurants with awesome bacon dishes in the comment space below. Then, subscribe to CAUGHT! blog posts by entering your email address in the left side column. (Contest valid through February 13, 2014.)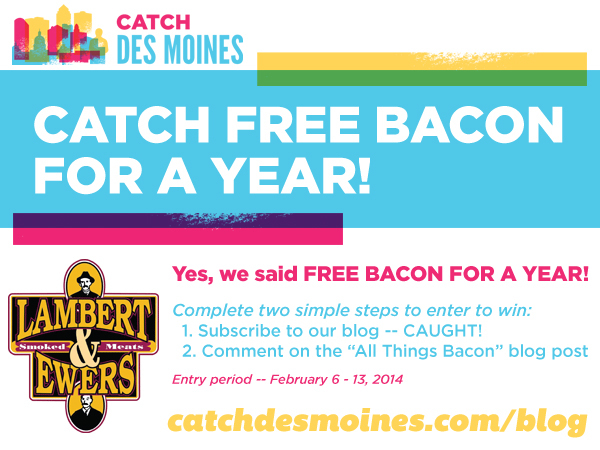 And whether in Des Moines or your own city… when in doubt, add bacon. LOTS of bacon.
--KR