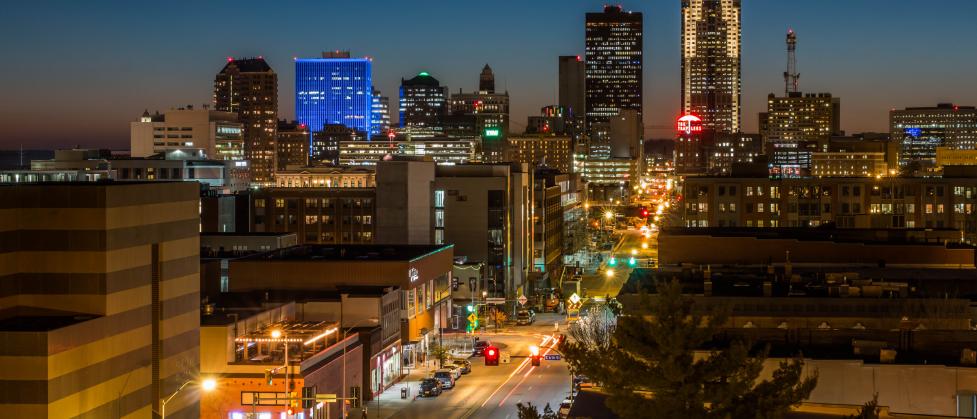 We could talk all day about the reasons you should visit Greater Des Moines. It's what we do! We could tell you that restaurants such as Table 128, Proof, Alba, Django, Eatery A, and Aposto will knock your socks off. Not just for the fabulous food prepared by their James Beard nominated chefs, but because you can enjoy meals with locally sourced ingredients without the big city price tag. We could tell you that visitors rave about Fong's Pizza, Zombie Burger, and Jethro's BBQ. Or we could let you know that we have an award-winning arts festival and one of the largest hot air balloon festivals in the United States.
But we know you're busy and you have a lot of options when it comes to planning a family vacation, a weekend getaway with friends, or just a quick overnight trip with your significant other. So instead of dishing out EVERYTHING that makes Greater Des Moines awesome, we tried to make it easy and give you a short list of 7 reasons we think you should visit this coming year.
#1. 2017 LPGA Solheim Cup
If you love America and golf, there is no better reason to celebrate both in Des Moines August 14-20, 2017. The LPGA Solheim Cup is the most prestigious event in women's golf and team USA will face team Europe at Des Moines Golf and Country Club this summer. Nearly 150,000 people are expected to turn out for the event. The last Solheim Cup was held in Germany and came down to the wire, with Team USA taking home the trophy. Don't miss your chance to catch it in the U.S. Tickets are already on sale and can be purchased here! If you can't make it in August, try and catch the Principal Charity Classic, recently named the PGA Tour Champions Tournament of the Year, June 6-11 at Wakonda Club.
#2. Public Art
Local artists have painted some pretty awesome murals on the sides of buildings in Downtown Des Moines lately. Not only does it make for a great photo opportunity, but it also showcases the many talented local artists that are making their mark on the city. As you wander around you're likely to come across dozens of public art pieces too, including the 28-piece sculpture park in the heart of downtown. Finding murals, sculptures, and other public art pieces is easy if you follow the green dots along city sidewalks. It's called Art Route and it connects people to public art. How cool (and easy) is that? You can also download the Greater Des Moines Public Art Foundation App to find and learn about all the public art pieces in Greater Des Moines. You should also stop by Moberg Gallery. They feature local and regional artists work! Check out these two Instagram shots from a mural on the side of Exile Brewing Company and RoCA restaurant.
This annual event draws in nearly 30,000 people and more than 40 bands to Western Gateway Park in downtown Des Moines. 80/35 will celebrate its 10th annual festival July 7-8, 2017. Previous headliners have included Weezer, Wilco, Wu Tang Clan, and the Decemberists. If you don't want to purchase tickets to the main stage, you can still catch dozens of artists on several free stages throughout Western Gateway Park. Plus food trucks and other vendors are on site to make this two-day festival that much better. Stay tuned in the next few months for announcements on who will be performing at the 2017 80/35 Music Festival.  
#4.  Local Beer
Des Moines continues to see local craft beer production on the rise. More restaurants are serving it on tap and more breweries are opening up shop. Award-winning Peace Tree Brewing Company will open up a second location in the Historic East Village at the start of 2017. This brewery's original spot is in Knoxville but their Des Moines branch will deliver a unique atmosphere and the same delicious beer. It's also right down the street from the Iowa Taproom where you can pick from more than 120 Iowa craft beers on tap! If that's not enough, head to El Bait Shop just a few blocks further where you can find 222 American craft beers on tap. We like our craft beer around here and we think you will like it too! Plan your trip around Greater Des Moines beer by visiting during Des Moines Beer Week, June 16-25, 2017. A week full of different beer events that ends with the Iowa Craft Beer Festival on Saturday.
If biking is your thing, you can find most of the metro breweries along the more than 800 miles of trails. 515 Brewing Company, Confluence, Firetrucker, Madhouse, Exile, and a few others feature bike racks, and even air pumps, on site. Plus you can often find local food trucks parked outside a few of them if you need a quick bite to eat. It's the perfect reason to pack up the bikes and hit the trails in Des Moines.
#5. Downtown Des Moines Farmers' Market
Year after year the Downtown Des Moines Farmers' Market is named one of the best famers' markets in the country! It's also listed as one of visitor's favorite things to experience while in Greater Des Moines. Every Saturday, May through October, attendees can browse hundreds of Iowa vendors, about 300 to be exact, in the Historic Court District. Picture everything from your traditional produce, flowers, and homemade goods to breakfast burritos, live music, and local art. No matter how many times you go, it's always fun to experience over and over again. Come hungry and thirsty and experience why the Downtown Des Moines Farmers' Market is one of the best.
#6. Outlets of Des Moines
 Just in time for holiday shopping, Outlets of Des Moines will open in October of 2017. No stores have officially been announced yet, but we do know that there will be 75 of them. This will be the first outlet mall in Greater Des Moines and will provide visitors and locals another shopping option along with Greater Des Moines' four mall and three additional shopping districts. It is located right off Interstate 80 near other attractions such as Prairie Meadows Racetrack Casino & Hotel, Adventureland Park and so much more.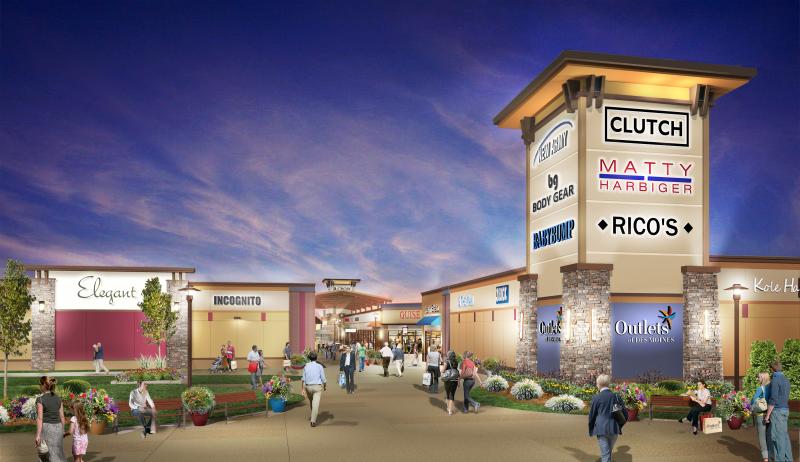 #7. Food Festivals
If sampling food and trying new dishes is your thing, than we suggest your make your way to Greater Des Moines to experience one of the many annual food festivals. Let's start with Blue Ribbon Bacon Festival, which is one day dedicated to all things bacon! Think bacon wrapped cinnamon rolls, bacon infused vodka and so much more. Plus entertainment and contests. This year's Blue Ribbon Bacon Festival will be on February 18 at the Iowa Events Center. Consider checking out the World Food & Music Festival, September 15-17, in Downtown Des Moines too. You can sample dishes from across the globe while enjoying music and entertainment from different cultures. Samples are as low as $1 and you can purchase an entrée for $5 or less. Plus, it's free to attend! If street eats is your thing, the Food Truck Throwdown happens twice a year in Western Gateway Park. Dates for 2017 have yet to be released but we promise it's the perfect way to experience the Greater Des Moines food truck scene all at one time.
Another delicious event? The Iowa State Fair. Over the course of 11 days you can taste test more food on a stick than you ever imagined. Every year they announce new food options along with the longstanding state fair favorites. From a pork chop to fried peanut butter and jelly, there's no shortage of foods on a stick to try. Plus you can also enjoy live music, entertainment, contests, exhibits and so much more while walking around the fairgrounds. This year's Iowa State Fair runs August 10-20, 2017.
Of course these are just a few things on the long list of Greater Des Moines events, festivals, and attractions. Check out our complete list of events here or request our Catch Des Moines Visitors Guide for more information, suggested itineraries and more! See you in 2017!