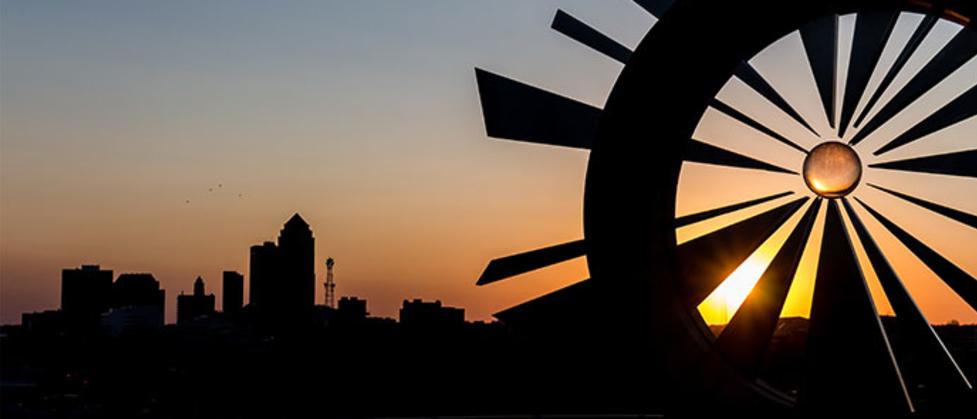 Header photo by @nyciowa 
Who made a New Year's resolution? Or two or three? Hopefully you're still going strong on those goals seven days into 2016. If you haven't made any resolutions or you are looking to add to your list, here's three that you can surely keep!
1. Visit 5 new attractions in Greater Des Moines that you've never been to 
I've lived in Des Moines for 11 years and worked at the Convention and Visitors Bureau for 7.5 years and there are some attractions even I haven't experienced. (Yes, I hang my head in shame!) Some that I still need to explore are the Heritage Carousel in Union Park, which is a gorgeous, hand-carved carousel that I know my kids and I would love. Perhaps you've never been to Reiman Gardens? As spring starts to awaken, I plan to head north to check out this 17-acre outdoor garden. A few others you might consider are Trainland USA for your train-loving kids, the Iowa Hall of Pride which is free for all Iowa students or the Boone and Scenic Valley Railroad for a dinner or dessert train ride. Greater Des Moines has SO many wonderful attractions that it is hard to hit them all but I challenge you to add this to your list and discover something new.
2. Find your new favorite, iconic Greater Des Moines dish 
The culinary scene in Greater Des Moines is second to none. Locally-owned restaurants and award-winning chefs are around every corner. Many of these establishments have incredible dishes that are truly iconic to Des Moines. Get out and try some new restaurants to discover your new go-to place or dish. I'd recommend the Chicken Spiedini at Latin King, the gigantic cinnamon rolls at The Machine Shed, the Splash Mixed Grill (filet mignon oscar, shellfish pan roasted and shrimp scampi) at Splash Seafood or the BLT Deviled Eggs at Louie's Wine Dive. I could go on and on with my favorite, iconic Des Moines dishes, but I'll let you get out and explore on your own. If you ever need more suggestions, you know who to call!
3. Learn something new about Greater Des Moines' history 
| | |
| --- | --- |
| | |
On a recent tour of Downtown Des Moines as a part of a leadership class I am taking, the history of Des Moines and the area was laid out before me and it is incredibly fascinating. From all the unbelievable business men and women who created our city to the development happening right before our eyes, the history of Des Moines is rich and extremely interesting. Take a walk through Woodland Cemetery where you'll see the gravestones of most of the city's founding fathers. There are recognizable names like Fleur, Hubbell, Perkins, Sherman, Weitz, Merrill, Younker, Savery and many more. Tours are offered regularly by local historians. History comes to life at Living History Farms where interpreters in costume recreate the daily lives of early Iowans. Experience what it was like at the 1700 Ioway Indian Farm, the 1850 Pioneer Farm, the 1875 town and the 1900 horse-powered farm. Other opportunities to learn about the rich history and culture of Greater Des Moines are at the Historic Swanson House and Clive Depot, the Iowa Gold Star Museum at Camp Dodge, Salisbury House and Gardens and the State Historical Museum of Iowa. There are plenty of resources available to dive into the history of Greater Des Moines. Make it your goal to become a Greater Des Moines history buff by the end of 2016.
The new year is here! Make it awesome with these three Greater Des Moines resolutions!
Happy New Year!
--JL