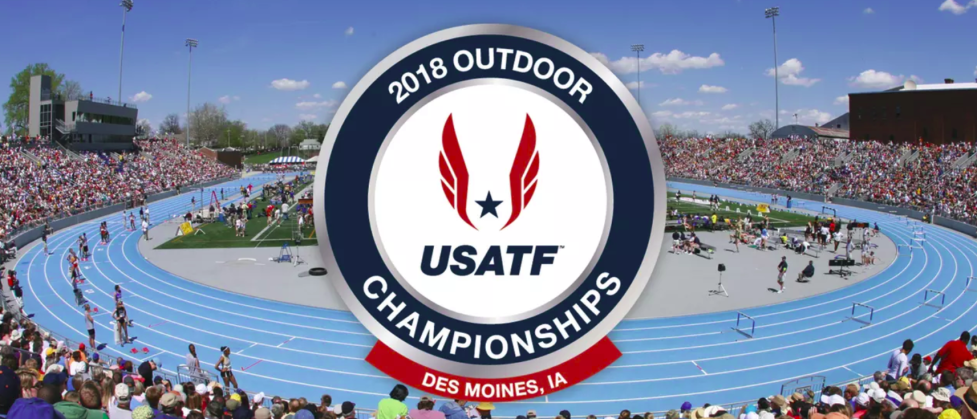 One thousand of the best track and field athletes from across the country will compete on the Historic Blue Oval at Drake Stadium in Des Moines at the 2018 USATF Outdoor Championships. The four-day event kicks off with the men's decathlon 100m at 1 p.m. CST on Thursday, June 21 and culminates with the men's 110m hurdles final at 4:52 p.m. CST on Sunday, June 24.
Previously hosted in Des Moines in 2010 and 2013, Drake University's Drake Stadium is set to host both the 2018 and 2019 USATF Outdoor Championships. Forty thousand visitors are expected at the 2018 Championships, with $6.4 million economic impact expected.
Two American women's records were set the first time Drake hosted the Outdoor Championships in 2010. 2008 Olympian and Olympic Trials record holder Kara Patterson set an American record in the women's javelin on her final attempt that soared 218 feet 8 inches and 2005 World Outdoor Championships silver medalist Chaunte Lowe set an American record in winning the women's high jump with a clearance of 6-08.75 on her final attempt.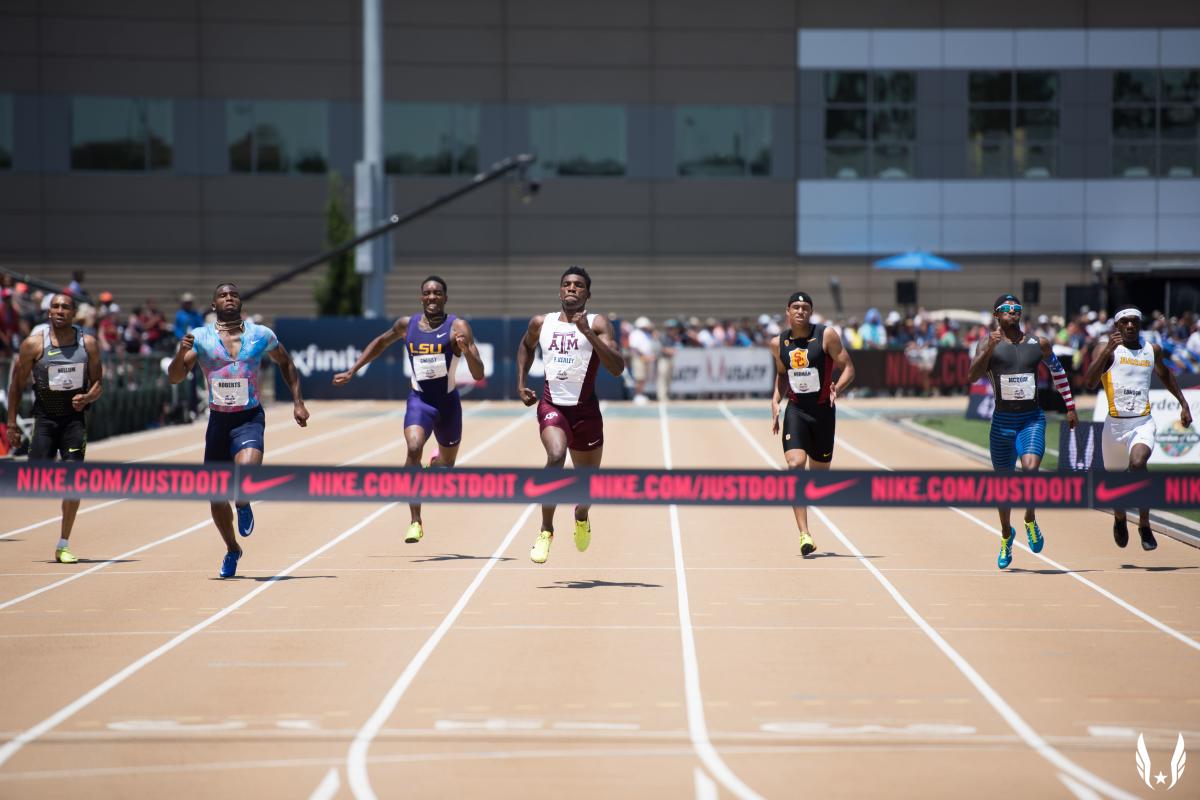 Fast forward three years later when four American records were set during the Saturday session of the 2013 Championships.
Just two weeks after setting the collegiate record in the women's 100 hurdles record (12.39) at the NCAA Championships, Brianna Rollins ran a stunning 12.26 that left a high-quality field in her wake while demolishing the 13-year-old U.S. record.
Amanda Bingson set an American record twice in the women's hammer throw. Bingson first threw an American record on her second attempt at 245-9, quickly followed by an even better mark of 248-5 on her third. Michelle Carter had the throw of her career in the women's shot put to add her name to the American record books. 
This year, several native Iowans will be back in the state challenging for national titles. 2016 Olympian Shelby Houlihan, a native of Sioux City, returns to defend her outdoor title in the women's 5,000. Jenny Simpson, reigning Olympic bronze medalist in the 1,500 and former World Indoor champ (2011), is expected to compete as well. Born in Webster City, Simpson has 11 U.S. indoor and outdoor national titles. Five-time NCAA champ, Karissa Schweizer, a former Dowling Catholic High School standout will run in distance races.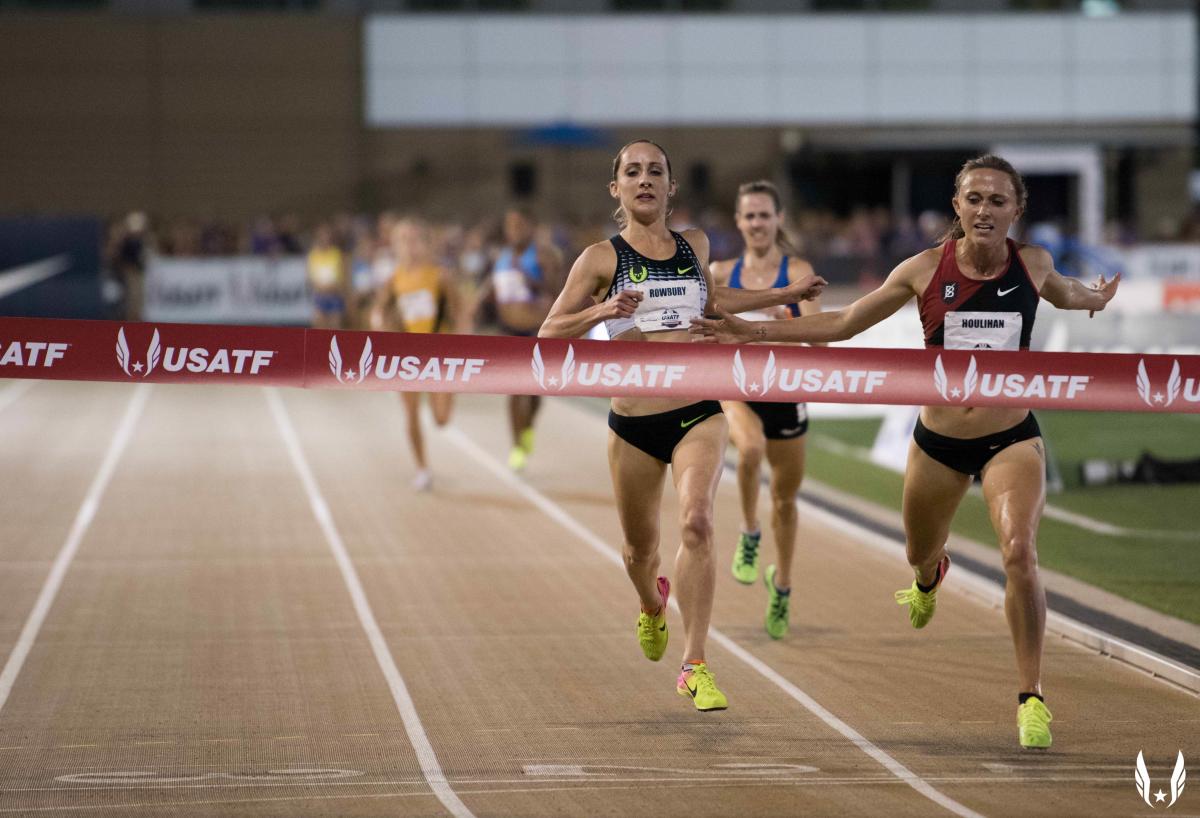 Iowan, Shelby Houlihan competes at the 2017 USATF Outdoor Championships
In addition, nearly a dozen Olympic alumni are confirmed to attend the kids RunJumpThrow event, including Madeline Mims, 1968 Olympian and only American woman to earn Olympic gold in the 800.
"We are thrilled to have the USA Track & Field Outdoor Championships back in Des Moines," said Greg Edwards, President and CEO of Catch Des Moines. "Not only does this allow us the opportunity to host visitors from across the country, but it also gives the community the opportunity to watch former and future Olympians compete at the classic Blue Oval."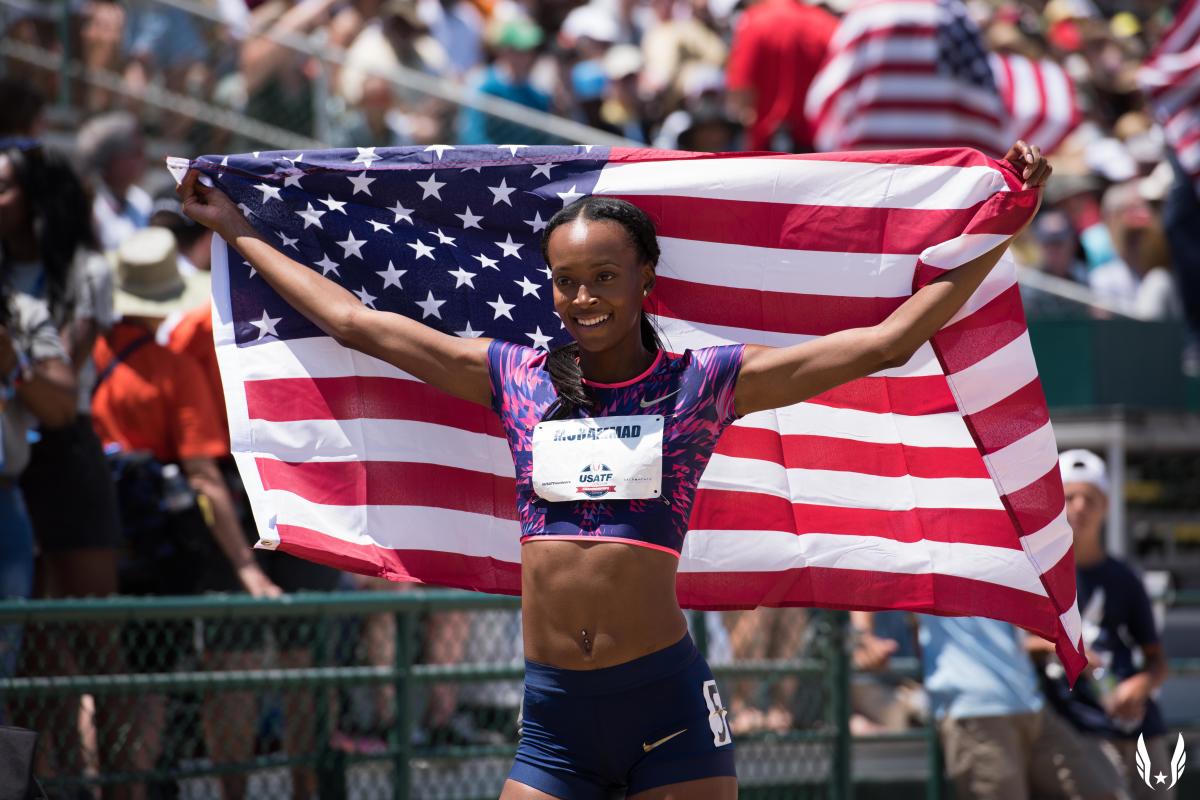 Tickets are now available. All session tickets are available for $60 - $80 and single session tickets are $5 - $25. Students and youth under the age of 18 can purchase tickets for $10 on-site with a valid student ID.
Volunteers are essential at an event of this caliber. Volunteers are needed in athlete and coach hospitality, drug testing, field practice crew, ice and water duty and more. Learn more about different volunteer opportunities – don't miss your chance to be a part of the 2018 USATF Outdoor Championships!
Visit catchdesmoines.com/usatf for ticket details, volunteer information, hotels and more.