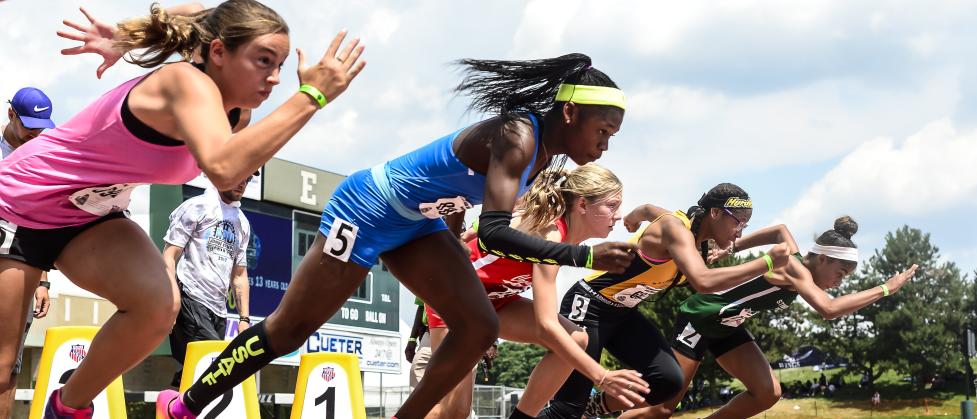 2018 AAU Junior Olympic Games
Later this month, 14,000 athletes from across the United States will descend on Des Moines for the 2018 AAU Junior Olympic Games. The games, which run July 25 to August 4, will bring an additional 40,000 visitors to Central Iowa, creating an economic impact that is expected to exceed $27 million.
For an event this large, Catch Des Moines is in great need of volunteers.
"Our goal is to have volunteers fill nearly 1,500 shifts to help with the success of the Games," said Laura Briggs, Director of Destination Services at Catch Des Moines. "Volunteers are an integral part of creating the best experience for our athletes, officials and visitors. Our excellent volunteers are a major reason the AAU will be hosting their fifth Junior Olympic Games in Des Moines at the end of July."
Volunteers are needed in the areas of registration, sport support, hospitality and awards. Each volunteer will receive a wristband to the AAU Junior Olympic Games and a t-shirt. Hours can also be recorded for the Silver Cord Program, if applicable.
Founded in 1888 to establish standards and uniformity in amateur sports, the AAU is one of the largest non-profit, volunteer sports organizations in the country. The AAU Junior Olympic Games are known as the largest national multi-sport event for youth in the United States and is the showcase event of the AAU Sports Program. Starting with just over 500 athletes in its first year (1967) in Washington, D.C., the Games have exploded to an expected 14,000 athletes this year.
"We are excited to have the AAU Junior Olympic Games back in Des Moines for the fifth time," said Katie Fencl, Director of Conventions, Sports & Services at Catch Des Moines. "Not only does this allow us to host and welcome visitors from all over the country, it gives the community an amazing opportunity to watch these young athletes compete at some of the best sports facilities Greater Des Moines has to offer."
Des Moines previously hosted the AAU Junior Olympic Games in 1995, 2004, 2009, 2014.
This year, the Games will include competition in 15 sports: track and field, jump rope, boys and girls wrestling, swimming, field hockey, trampoline and tumbling, baton twirling, taekwondo, karate, pickleball, powerlifting, weightlifting, sport stacking and multi-events. A full schedule is available HERE. Most events will take place at Drake University's Drake Stadium and the Iowa Events Center. The swim competition will take place downtown at the Wellmark YMCA and field hockey will be played on Dr. Christine H.B. Grant Field in Iowa City.
Tickets for the 52nd annual AAU Junior Olympic Games can be purchased on-site from July 25 through August 4. Spectators may purchase a $45 passport for the event, which includes admission to all competition venues throughout the duration of the Games. Daily passes are available for $15. Children 6-years-old or younger receive free admission to the events.
Visit catchdesmoines.com/aaujo for ticket details, volunteer information, hotels and more.